Room Reviews and News



Reviews of some of the biggest online poker rooms in the world. Also included in this section will be news that involves some of the rooms that we have profiled in this section. Find out what is going on at your favorite poker rooms.

Pokerstars Championship Bahamas Numbers Continue To Dwindle

Despite a rebrand from the "Pokerstars Caribbean Adventure" to the "Pokerstars Championship Bahamas", the numbers for the event continue to drop.

This year's P...

The Biggest Story of 2016: The Bloom Comes Off The Pokerstars Rose

Back when Isai Scheinberg was still in charge of Pokerstars, the online poker giant had an absolutely sterling reputation. The company prided itself on taking care of its play...

The Long-Term Implications Of PartyGaming's Settlement With the US Government

PartyGaming made headlines earlier today when they announced that they had settled with US authorities regarding "improper" transactions involved US citizens.

...

World Series of Poker 2009 Satellites Have Started at Full Tilt Poker

Do you have dreams of taking down the World Series of Poker main event?

Do you long to become the next main event champion, securing yourself millions of dollar...

20 Million Accounts at Pokerstars

A short while ago, "piposko" of Slovakia signed up for an account at Pokerstars.

"piposko" surely had no idea that he was about to make history when he finishe...

Party Poker Might Return to US Market in "Not Too Distant Future"

Martin Weigold, the finance director at PartyGaming, recently had some interesting comments regarding the company's possible return to the United States.

Weigo...

Bodog Now Offers Limited Software For Mac Players

Bodoglife has finally joined us in the 21st century and is now offering limit support for Mac users.

Before you get too excited though - the full Bodog softwar...

Online Poker Room Traffic Numbers for January 30th, 2009

It shouldn't be tough for you to guess who the largest online poker room in the world is.

The answer is PokerStars, and it's really not even close.


Pokerstars Is Offering Two Seats To the 2009 National Heads-Up Poker Championship

Pokerstars and Full Tilt Poker are both offering their US customers a possible entry into the 2009 National Heads-Up Poker Championship which is scheduled to take place betwee...

PokerSwat.com Officially Launches

The poker training niche is extremely crowded.

You have Cardrunners.com. You have Deucescracked.com. You have PokerXFactor.com. You have Bluefirepoker.com. You...

PartyGaming's Stock Continues to Soar After Anurag Dikshit Pleads Guilty

It's amazing what some settlement talk will do for a company's share price.

PartyGaming's stock, which has been languishing for some time, has absolutely explo...

Pokerstars Looking to Land in the Guinness Book of World Records

December 28th, 2008. 15:30 pm ET.

This is when Pokerstars will attempt to land in the Guinness Book of World Records.

The record that they are ...

FTOPS IX To Get Underway on August 6th

The ninth installment of the FTOPS (Full Tilt Online Poker Series) will get underway on August 6th. There will be a total of $15 million dollars in guaranteed prize money, and...

PokerNews Strategy Instructional Site Coming Soon

If you visit Pokernews.com, you will notice a banner on the right-hand side of the page that says "PokerNews Strategy - Coming Soon", with a picture of Patrik Antonius wearing...

Dates and Locations Announced for 2008 World Series of Poker Europe

The second World Series of Poker Europe event will take place between September 19th and October 1st of 2008, Harrah's Entertainment announced on Tuesday. The event will be he...

"Devilfish Gaming", Owner of Devilfishpoker.com, Planning on Going Public

Dave "Devilfish" Ulliott, certified player and bonafide ladies man, plans on cashing in on his name as his firm, Devilfish Gaming, has initiated plans to go public.


FTOPS VII Gets Underway Today

Full Tilt Poker has launched the seventh edition of its "FTOPS" event. "FTOPS VII" will run from February 6th until February 17th and will have $10 million dollars in guarante...

Pokerstars Finally Introduces Step Sit and Go's

The people have spoken, and Stars has finally listened.

After years of reading emails from their customers, asking for Step Sit and Go's to be introduced, Poke...

New Nosebleed Heads Up Games Introduced on Full Tilt Poker

Are you rich? Do you want to lose some of your money?

Full Tilt Poker has just recently introduced three new heads-up poker rooms on their site. These rooms are...

Pokerstars Unleashes Heads Up Cash Game Tables on the Masses

The back and forth between the two biggest poker rooms in the game, Full Tilt Poker and Pokerstars continues.

Pokerstars over the past week implemented probabl...

WSEX Ends Rake Free Poker

The rake free poker era is over.

WSEX made a big splash about a year ago when they announced that they would no longer be charging for rake in their poker room...

Full Tilt Poker Unleashes $10 Million Main Event Mania Promotion on General Public

UIGEA be damned, Full Tilt Poker is unleashing a massive World Series of Poker promotion on the general public that will see hundreds of its players take part in the World Ser...

Ultimatebet Unleashes Roshambo on the Betting Public

Ultimatebet, which has been making the wrong kind of waves as of late, finally has the online poker community talking about something positive, as they have unleashed "Roshamb...

Ladbrokes Pulls out of Talks to Buy 888 Holdings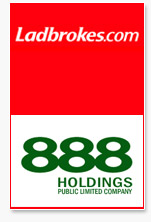 Ladbrokes has recently broke off talkins to purchase online gambling firm 888 Holdings...

Why Doesn't Bodog Allow Canadian Residents to Play on Their Site?

Here is a question that we are often asked. Why doesn't Bodog, one of the biggest poker rooms online, allow Canadian residents to play at their site? You allow Ethiopian resid...

Planet Poker to Shut Down: The Anti-Gambling Bill Claims Another Victim

The anti-gambling bill has claimed another victim.

Planet Poker, which was the first major online poker room (has been around for over 9 years now), has announ...

Full Tilt Poker Launches Poker Software for Mac Users

Mac users, your day has finally arrived. Full Tilt Poker, home to such pros as Phil Ivey, Chris Ferguson and Layne Flack, has just now announced the launch of their new beta s...

Ultimatebet Review

Ultimatebet.com is the King's favorite place to play on the Internet, by far. Their software is the most stable of any that I have tried; their tournament and SNG structure fa...

Full Tilt Poker Review

Full Tilt Poker hit the scene last July. Like any other poker room, it was a slow build to attract players to their room. The main attraction was the fact that this room has m...

Party Poker Bites Back in Rakeback War

A shot was fired in the rakeback war by Party Poker over the last week. If you are currently receiving rakeback from a Party Poker affiliate or any of its skins (Empire Poker,...

New Online Poker League Announced: Cash Prizes

The King is proud to announce that he is sponsoring a new online poker league, one that will give out cash prizes to the top players, and one that is absolutely free to all. <...

World Poker Tour: The King's Review

You have probably seen the World Poker Tour on TV at one time or another, if you are a hardcore poker addict or even casual fan of the game. Whether it's 9 pm EST on the Trave...

Details on PartyPoker.com Million IV

Qualifying to Party Poker's very successful PartyPoker.com Million IV tournament is underway, and the King has all of the details to get you started.

The total...



Stay in Touch With The King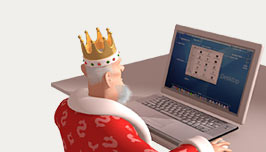 Poker King News
King's Poker Blog
Pokerstars Marketing Code Free Money