Ninth edition of the FTOPS To Get Underway on August 6th
Published on July 29th, 2008 10:01 pm EST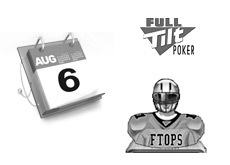 The ninth installment of the FTOPS (Full Tilt Online Poker Series) will get underway on August 6th. There will be a total of $15 million dollars in guaranteed prize money, and the usual assortment of "red" Full Tilt pros will be hosting the 25 different events.
FTOPX IX kicks off with a $200 + $16 No Limit Hold'em event that will feature a guaranteed prize pool of $1 million dollars on August 6th. The event will be hosted by Allen Cunningham. Over the next 12 days, there will be a wide assortment of different events, ranging from a $2500 NLHE tournament that will take place over two days to a $500 + $35 No Limit Hold'em Heads-Up event, which will be hosted by Kenny Tran.
The last day of FTOPS IX will be August 17th. On this day, you will have the conclusion of the $2500 + $120 two-day NLHE event, which will be hosted by Patrik Antonius. You will also have the $120 + $9 NLHE Knockout event, and the $500 + $35 NLHE Main Event, which will have a guaranteed prize pool of $2.5 million dollars. "cheesemonster" is the current reigning FTOPS Main Event champion, having taken down the event a few months ago for $410k.
The full schedule looks like this:
Aug 6th | $200 + $16 NLHE | Guarantee: $1,000,000
Aug 7th | $240 + $16 PL Omaha/8 Knockout | Guarantee: $200,000
Aug 7th | $200 + $16 NLHE 4 x Shootout 6-Max | Guarantee: $250,000
Aug 8th | $300 + $22 NLHE 1 Rebuy + 1 Add-on 6-Max | Guarantee: $600,000
Aug 8th | $200 + $16 Stud | Guarantee: $100,000
Aug 9th | $500 + $35 Pot Limit Omaha 6-Max | Guarantee: $300,000
Aug 9th | $100 + $9 NLHE Rebuy | Guarantee: $500,000
Aug 10th | $240 + $16 NLHE 6-Max Knockout | Guarantee: $500,000
Aug 10th | $500 + $35 NLHE Heads-Up | Guarantee: $500,000
Aug 10th | $300 + $22 NLHE | Guarantee: $1,500,000
Aug 11th | $200 + $16 Limit Hold'em | Guarantee: $200,000
Aug 11th | $1000 + $60 NLHE 6-Max | Guarantee: $1,500,000
Aug 12th | $200 + $16 HA | Guarantee: $200,000
Aug 12th | $500 + $35 HORSE | Guarantee: $300,000
Aug 12th | $200 + $16 NLHE Turbo | Guarantee: $500,000
Aug 13th | $200 + $16 Omaha/8 | Guarantee: $200,000
Aug 13th | $300 + $22 NLHE 6-Max Rebuy | Guarantee: $1,000,000
Aug 14th | $500 + $35 NLHE 3 x Shootout | Guarantee: $300,000
Aug 14th | $300 + $22 Mixed Hold'em 6-Max | Guarantee: $300,000
Aug 15th | $200 + $16 NLHE 6-Max | Guarantee: $400,000
Aug 15th | $300 + $22 RAZZ | Guarantee: $150,000
Aug 16th | $2,500 + $120 NLHE 2-Day Event | Guarantee: $2,000,000
Aug 16th | $100 + $9 Pot Limit Omaha Rebuy | Guarantee: $350,000
Aug 17th | $120 + $9 NLHE Knockout | Guarantee: $400,000
Aug 17th | $500 + $35 NLHE Main Event | Guarantee: $2,500,000