"Ivey Room" at the Aria Is No More
Published on February 20th, 2019 11:31 pm EST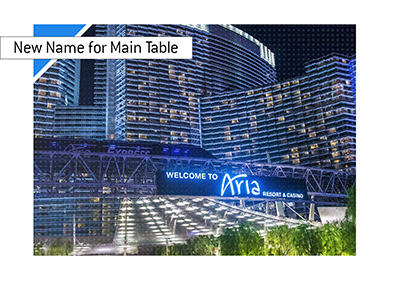 Earlier today, Joey Ingram revealed via his Twitter account that the "Ivey Room" at the Aria has been renamed.
The new name of the room? "Table 1".
In an effort to draw some of Las Vegas' biggest cash games to their casino, the Aria opened the "Ivey Room" in May of 2010.
The thought was that the Aria would be able to draw the "Big Game" to their casino, helped by the star power of Phil Ivey. If Ivey had a room named after him, surely he would play there, and surely Ivey's presence would help to lure other players as well.
Things didn't quite work out as planned.
To start, "Black Friday" took place in 2011, and that helped to put a damper on all things in the high stakes cash game world, as suddenly everybody seemed to have much less money at their disposal, as the fountains of cash from Full Tilt Poker suddenly stopped.
Even worse, the Aria is owned by MGM Resorts International, which also owns the Borgata. The Borgata is currently trying to collect more than $10 million from Ivey as a result of the "edge sorting" lawsuit that the casino successfully won.
The Borgata is currently attempting to collect assets from Ivey in both New Jersey and Nevada, so it really doesn't make sense that the Borgata's parent company, MGM Resorts International, would continue to keep the "Ivey Room" operating in Las Vegas.
Here is Phil Ivey at the opening of the "Ivey Room" during happier times:
-
I'm going to go out on a limb and say that the Aria will be hesitant to name their poker room after a player anytime soon.
The "Ivey Room" seemed like a good move at the time, though circumstances changed and things went south (in a big way) between the two sides.
Here is the Tweet:
Pretty historic moment took place today as the Ivey's high stakes room at the @ARIAPoker is no more. No

The sign outside the door was changed at around 9 A.M. this morning to Table 1.

I think we need to figure out a bit more exotic of a name for the room. @ThePokerBoss pic.twitter.com/gTqL06uCxP

— Joey "Dr. Live PLO" Ingram (@Joeingram1) February 20, 2019