Pokerstars Heads-Up Poker Championship Promotion
Published on January 20th, 2009 1:37 am EST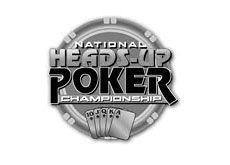 Pokerstars and Full Tilt Poker are both offering their US customers a possible entry into the 2009 National Heads-Up Poker Championship which is scheduled to take place between March 5th-8th. The event, as always, will be staged at Caesar's Palace in Las Vegas.
For now, we are going to cover the Pokerstars promotion and how you might be able to qualify.
As mentioned, this promotion is just open to American players on Pokerstars.
Pokerstars will be awarding a $21,000 prize package to two lucky players.
The package includes a $20,000 entry to the tournament as well as hotel and travel expenses.
What is the National Heads-Up Poker Championship?
The event is a 64 man (and woman) tournament that features some of the best poker talent in the world. Names that include the likes of Phil Ivey, Phil Hellmuth, Tom Dwan and Patrik Antonius.
The 64 players square off in a single elimination heads-up tournament. You win your match and you continue - you lose and you go home.
Previous winners of the event include Chris Ferguson, Paul Wasicka and Phil Hellmuth.
The event will be aired on NBC. Not only do you get a chance to compete for hundreds of thousands of dollars in prize money, but you will also appear on television if you win yourself a package.
So how do you qualify? It's simple.
First off, you need to play in a "Round One" freeroll and finish in the top 200. The top 200 finishers will move on to Round Two. "Round One" freerolls take place every day at 19:00 and 22:00 ET.
The top 56 finishers in the "Round Two" freerolls will move on to the "Grand Final". The round two freerolls take place at 16:00 ET on the following dates:
December 27, January 3, January 10, January 17, January 24, January 31, February 7, February 14, February 21.
There is also a "last chance" tournament on February 21 at 19:00 ET, with the top eight finishers earning a spot in the Grand Final.
The "Grand Final" will take place on February 22nd at 15:00 ET, with the top two finishers set to receive a $21,000+ prize package.
Did you ever dream of playing heads-up against a player like Phil Ivey or Phil Hellmuth? Well here is your chance!