Published on May 3rd, 2007 5:14 pm EST
UIGEA be damned, Full Tilt Poker is unleashing a massive World Series of Poker promotion on the general public that will see hundreds of its players take part in the World Series of Poker.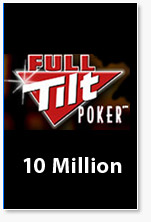 The most unbelievable promotion that Full Tilt is offering is the $10 Million dollar Main Event promotion. It's simple: if you qualify for the World Series of Poker through Full Tilt Poker and end up winning the Main Event, Full Tilt will pay you an addition $10 million dollars on top of whatever you win at the main event. This could mean a potential payday of $20 million dollars plus if you are lucky enough to take down the main event.
Full Tilt is also offering a number of seats to the main event through various promotions including:
-The 100 Seat Guaranteed tournament that takes place on June 17th.
-the Tuesday Main Event Qualifier, which offers two guaranteed seats to the Main Event every Tuesday
-Main Event Giveaway, where Full Tilt gives two seats out for free each week up until June 20th
-$1k Main Event Qualifier, which will see 5 seats given out each week
-Sunday Main Event Qualifier, which will see 2 guaranteed $12k packages given out each Sunday
There will be hundreds of players at this year's main event that qualified at Full Tilt Poker; will you be one of them?