Definition of Set
What does the term "set" mean in the world of poker? What is the definition of the term "set" in poker?
In poker, a "set" occurs when you make three-of-a-kind using two of your hole cards and one card on the board.
For instance, let's say that you are playing in a local cash game at your favorite casino.
You are dealt pocket Twos and decide to make a pre-flop call after a raise from somebody in early position.
The flop comes 2-4-8, which gives you a "set of Twos".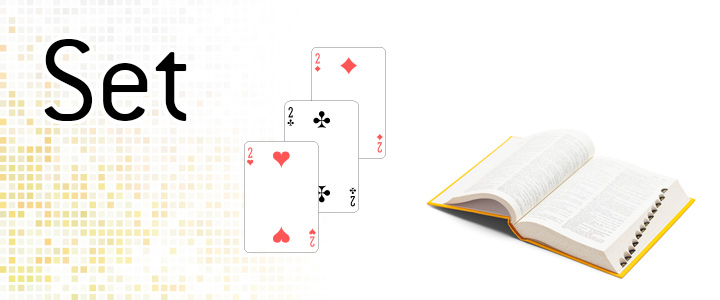 You may hear the term "trips" used to describe a set as well, though trips is slightly different.
If you held A-2 and the flop came 2-2-4, then you would be said to have "trip Twos".
-
A set is a very strong hand in most poker variants, including Texas Hold'em and Pot Limit Omaha.
Texas Holdem King articles that mention
Set
:
Will Phil Ivey Ever Play Poker in Las Vegas Again?
Pokerstars' Q4/2018 Poker Revenues Drop Over 10% From Year Before
"The Ivey Room" at the Aria Renamed to "Table 1"
2018 partypoker LIVE MILLIONS Grand Final Barcelona Main Event Receives 1,175 Entries
Online Poker Enters Its Third Decade