Online Poker Room Traffic Breakdown
Published on January 30th, 2009 11:08 am EST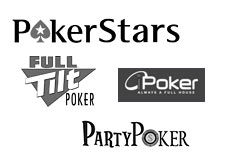 It shouldn't be tough for you to guess who the largest online poker room in the world is.
The answer is PokerStars, and it's really not even close.
According to PokerScout.com (link below), Pokerstars is at least TWICE as big as their closet competitor, Full Tilt Poker.
Pokerstars currently has about 35,000 real money cash game players on its site during its peak traffic hours. Full Tilt Poker, which is second on the list, has around 15,000 real money cash game players during its peak hours.
There was a time when Pokerstars wasn't the biggest room in the world. Party Poker used to be the 800 pound gorilla of the online poker world, but their decision to go public ultimately doomed them in their race with Pokerstars. Because they were a publicly traded company, they were forced to pull out of the United States after the UIGEA was introduced. Many players defected to Pokerstars, and the online poker world hasn't been the same since.
Another company that benefited from the UIGEA was Full Tilt Poker. Their client base swelled once many of their competitors pulled out of the US market. They are currently the second largest poker network in the world, comfortably ahead of both the iPoker Network and Party Poker.
Speaking of the iPoker network - they are currently listed in the third spot. The iPoker Network has dozens of "skins" that use their software. Skins that include the likes of Titan Poker and Mansion Poker. This strategy has worked out well for the company, as they are currently comfortably in third place.
The fourth and fifth spots on the list are taken by Party Poker and the Ongame Network. Party Poker has been making a concerted effort to regain some of their lost market share, and some of the new changes appear to be working out to their benefit. These changes include: more aggressive deposit bonuses and a complete overhaul of their software package and website.
The hard-charging Everest Poker is nipping at the heels of the OnGame network, as they are currently sitting in sixth place. Everest Poker recently inked a deal with the World Series of Poker to become one of the sponsors of the event - expect this to have a positive impact on their player base going forward.
The Cereus Network (Ultimatebet and Absolute Poker combined) are in seventh spot, while Boss Media, Svenska Spel and the Cake Poker network round out the top 10. Pacific Poker, Bodog and PKR.com all sit outside of the top 10.
So what does all of this mean?
1. Pokerstars is an unstoppable freight train of momentum right now. I really can't see any way of Full Tilt Poker catching them for at least 4-5 years, if ever.
2. Party Poker's new CEO seems to be paying dividends, as the room seems to be growing once again.
3. Full Tilt Poker will very likely be the #2 online poker room in the world for years to come.
4. The iPoker Network is doing very well.
5. Everest Poker is a room to keep an eye on in the next 2-3 years - I wouldn't be surprised to see them in the #5 spot soon.
6. Bodog is not doing very well, considering their existing sports betting player base and marketing might.
Source:
PokerScout.com