Published on June 4th, 2007 5:39 am EST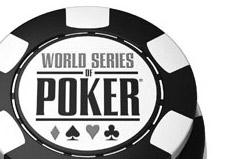 Well it is currently 2:40 am PST, and Day 2 of the $1500 No Limit Hold'em event at the World Series of Poker is nowhere near being done for the day. There are still 27 players remaining, and they need to play down to the final table (9 players) before the end of the day.
Harrah's likely wasn't planning on such a massive field (this is the third biggest field of players ever, behind the 2005 and 2006 Main Event.) With these $1500 events being so popular, Harrah's might want to make it a 4 day event next year -- play down to 27 on Day 2, and then down to the final table on Day 3, because play won't likely end for the day until about 5:30 am PST (play started at 2 pm, that's a lot of poker.)
Most of the well-known names have been knocked out of the event, leaving a field of mostly amateurs remaining.
If the event goes far into the night (which it probably will, as play around the final table bubble tends to drag and drag), Harrah's may consider pushing the start time back on Monday to something like 5 pm, as they did with the $50k HORSE event last year.
Whoever wins this event will be truly worthy, as making it through a field of nearly 3k players is truly a remarkable feat.