Run It Up Reno Main Event Hits 500 Entries
Published on April 1st, 2018 1:22 pm EST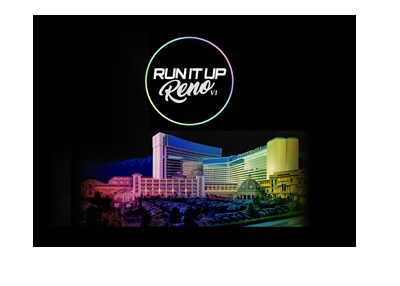 For many poker players, Run It Up Reno is quickly becoming one of the "can't miss" events of the year.
Thanks to the growing popularity of Twitch.tv and the rise of poker streamers in general, Run It Up Reno has surged in popularity. Case in point: the Run It Up Reno main event, which ended up pulling a total of 500 entries to create a total prize pool of $261,900. This far exceeded the guarantee of $150,000 and speaks to the growing popularity of the series in general.
Many of poker's top streamers attended the event this year, including the likes of Jason Somerville, Jaime Staples and Lex Veldhuis. In addition, some of the "next wave" of streamers also attended, including the likes of Patrick "Iregption" Tardif and Arlie Shaban.
Interest in the event has been helped out as well by the fact that streaming is allowed during the tournaments. For instance, Jaime Staples streamed his victory in a prelim event at Run It Up Reno, with over a thousand viewers tuning in at any one time. While you couldn't see his hole cards, viewers were still able to follow along as Staples took down the tournament.
In addition, the much-hyped weight prop bet between the Staples brothers and Bill Perkins also reached its conclusion at Run It Up Reno, with the final weigh-in being streamed (of course) on Twitch.tv.
This helped to give the event a "big" feel, which resulted in many players deciding to make the trip to Reno. The inclusion of streaming and the appearance of many top streamers at the event has helped to give the series a light-hearted and fun feel, which has resulted in many players having a great time.
With Twitch.tv continuing to grow, coupled with a very positive reception from players this year, I would expect the numbers for Run It Up Reno to continue to grow next year. The tournament is also nicely situated in the tournament schedule, as many players are starting to arrive back in Nevada for the start of the World Series of Poker, which gets under way in less than two months.
-
All in all, the growth of this event has been impressive, and it will be interesting to see where things going over the coming years.