Definition of Guaranteed Prize Pool
What does the term "guaranteed prize pool" mean in the world of poker? What is a "guaranteed prize pool"?
In poker, a "guaranteed prize pool" is when tournament organizers (online poker room, casino, etc) guarantee that a tournament will have a minimum prize pool of a certain amount. Guaranteeing a prize pool is done to increase attendance, as players will know that they will be playing for a minimum amount of money.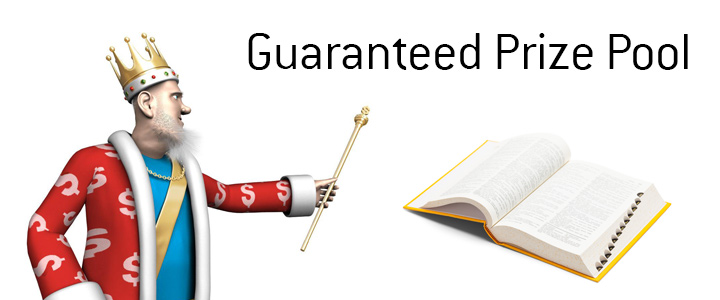 Guaranteeing a prize pool can be dangerous for an organizer, as they run the possibility of having an "overlay" if not enough people turn out. For instance, if tournament organizers guarantee a prize pool of $1 million though players only contribute $800,000 to the prize pool, the tournament organizers will be on the hook for $200,000.
Let's say that tournament organizers want a big turnout, so they take the step of guaranteeing $20 million for the main event of their tournament series. Sure, there is obviously a risk that the turnout will be disappointing, though many players will be attracted to the large guaranteed pool of prize money.
Pokerstars, for instance, traditionally has guaranteed prize pools for all of their WCOOP and SCOOP events, as this helps to build attendance numbers.
Texas Holdem King articles that mention
Guaranteed Prize Pool
:
partypoker Closing Out 2018 With "The Big Game"
Aussie Millions 2019 Schedule Released
2018 partypoker LIVE MILLIONS Grand Final Barcelona Main Event Receives 1,175 Entries
World Series of Poker Europe 2017 Schedule
Pokerstars Releases 2017 NJCOOP Schedule