Mark Spellman Current Chipleader of Irish Poker Open
Published on March 23rd, 2008 11:41 pm EST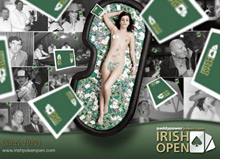 Mark Spellman is the chipleader of the 2008 Irish Poker Open after two full days of play. He currently sits with a stack of around 337k in chips, which is approximately 40k more than his closest opponent, Lars Hougaard.
The remaining 52 players will be battling it out for the 800k euro first place prize. Day 3 will be a particularly lengthy day of play, as the final table is set to take place on March 24th, meaning that they will need to play down from 52 players all the way down to 6 when play gets underway tomorrow.
First place will receive 800k and the second place finisher will receive 420k euros. The tournament has a three million euro guarantee, meaning that there is a 200k overlay in the tournament. The tournament didn't draw as many players are expected, especially given the presence of legend Doyle Brunson in the tournament. Also, tournament organizers were said to be disappointed with the number of local entrants, and had been expecting more, especially given the booming Irish economy.
There are several notable names still left in the tournament.
Sorel Mizzi, who recently inked a deal with Betfair, is currently sitting with a stack of around 185k. Mizzi has to be considered one of the favorites to win this tournament, especially given his three-way chop of the 2007 Irish Poker Open. Mizzi is undoubtedly one of the strongest players remaining in the tournament.
Padraig Parkinson currently sits with a stack of 130k and Surinder Sunar currently has around 56k in chips. Sunar is another very solid player - the question is whether or not he can amass enough chips to really make a difference on Day 3.
All of the remaining 52 players are guaranteed at least 6500 euros as the money bubble was burst on Day 2. All of the six players who make it to the final table will be guaranteed at least 135k euros, with the first place finisher receiving 800k.