Is The "durrrr" Challenge Finished?
Published on March 9th, 2009 12:56 am EST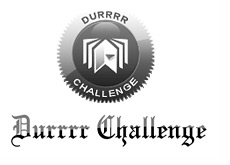 The "durrrr" challenge started about three weeks ago amid a great deal of fanfare.
The "challenge" pitted Tom "durrrr" Dwan against Patrik Antonius. They were to play 50,000 hands of $200/$400 Pot Limit Omaha, with a minimum of four tables being played at all times.
If Antonius was up even $1 after rake at the end of the challenge, then he would collect $1.5 million dollars from Dwan, in addition to whatever he won during the course of the challenge.
If Dwan was up even $1 after rake (after the 50,000 hands had been completed), then he would collect $500,000 from Antonius, in addition to whatever he won during the challenge.
Dwan issued the "durrrr" challenge to every poker player in the world, except for Phil "OMGClayAiken" Galfond (who was prohibited for taking part for some reason). Three players (at least) accepted the challenge, including David Benyamine, Phil Ivey and Patrik Antonius. Antonius received the first shot at Dwan, with Phil Ivey waiting in the wings for the next shot.
The challenge got underway on February 18th, with Dwan jumping out to a quick lead.
The two players played a few short sessions after that, and have currently completed 4,178 of the required 50,000 hands in the challenge.
The last session between the two players occurred on February 24th, leading many to ask: is the challenge over?
To be honest, I am not expecting the two players to finish this challenge. I also would not be surprised if they didn't play another hand in the challenge.
The first 4,178 hands have been pretty boring and both players have been playing fairly tight. I think that they would both prefer to play in the $500/$1000 games that are frequently running on Full Tilt, as there is more action and some slightly weaker players in the games. I can't imagine that either player is too excited about the prospect of finishing out this challenge.
With the World Series of Poker rapidly approaching (just 2 1/2 months away), I put the likelihood of this challenge finishing at around zero. Not only do you have an incredible number of tournaments at the WSOP, but the live cash games are extremely juicy and running all the time. Add in all of the golfing and other assorted activities, and these two will likely be otherwise occupied during the summer.
The "durrrr" challenge was fun while it lasted, but I don't think that either player is too interested in finishing out the remaining 45,000+ hands. This challenge would take a few months to complete in the best of times - given how disinterested the two players have seemed so far, the "durrrr" challenge will likely never end.