Published on April 2nd, 2007 6:45 pm EST
Best player in the world? Some of you out there might consider it a stretch, but in our opinion, Imper1um, aka Sorel Mizzi, is the best poker player in the world right now.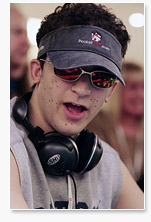 The results can not really be argued with. Sorel is just now stretching his legs and getting into live poker, and is already having a great deal of success, in Monte Carlo and other European locales in which he has played. The more live events that Imper1um plays, the more it will bear out our opinion that he is the best player in the world.
In terms of online poker results, you can't argue the fact that Imper1um is probably the most feared player online today. Also known as "zangbezan24" on Poker Stars, Imper1um has absolutely been tearing up the tournament scene, especially the big rebuy tournaments on Poker Stars. A few weeks ago, Imper1um had one day on PokerStars where he cleared $80k in one day. Add that to countless other wins and final tables, and you have the best player online today, and seemingly only getting better.
Imper1um is another JJProdigy disciple, and is known for his aggression and great hand-reading abilities. We feel that Imper1um's game is only getting better, and he will crush more and more live tournaments.
Move over Annette_15. Stay to the side BelowAbove. Look out JohnnyBax. Imper1um is the player that everyone should fear.