Season Five of High Stakes Poker Premieres on March 1st
Published on February 26th, 2009 9:44 pm EST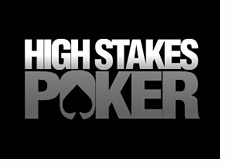 The fifth season of "High Stakes Poker" will begin this Sunday at 9 pm EST on the Game Show Network (GSN).
For many, this day has been a long time coming.
"High Stakes Poker" is almost unanimously regarded as being the best poker show on TV today. HSP manages to stand out from the ocean of mediocre poker programming that currently makes its way to your television screen.
Why is this show so popular? A number of reasons, including:
1. The high-stakes cash game format. Every poker player, casual or otherwise, has imagined themselves sitting down at the "Big Game" in Bobby's Room at the Bellagio. This show gives them a glimpse of what it's like to play in this game.
2. The players. The best players in the world take part in this show, including: Phil Ivey, Daniel Negreanu, Doyle Brunson, Barry Greenstein and more.
3. The commentators. Gabe Kaplan is an extremely knowledgeable host who possesses a wealth of experience when it comes to the game of poker. He brings a tremendous amount of credibility to the show, and he never gets tiresome, unlike other announcers. You can tell that Kaplan truly has a passion for the game of poker.
4. The hands. Negreanu vs Hansen. Negreanu vs Lindgren. Brunson vs Laliberte. Farha vs Gold. Just some of the memorable hands that have taken place during the first four seasons of the show, and I am sure that there will be more in season five. I don't know about you, but I find it fascinating to watch $500,000+ pots play out in a live format.
5. The personalities. It's pretty entertaining to watch some of the personalities clash at the table.
6. The banter. What do poker players with net worths of seven, eight or even nine figures talk about while at the poker table? Some of the discussions are pretty interesting, and some of the stories are downright hilarious.
So who is appearing on the show this year?
Most of the old regulars of the show will be back, including Daniel Negreanu, Barry Greenstein and Phil Ivey.
There will also be some new blood as well in the form of Tom "durrrr" Dwan and Ilari "Ziigmund" Sahamies. Both of these players will certainly add to the aggressiveness of the games and the size of the pots.
Personally, I can't wait for the new season of the show to start. From everything that I've heard, this is going to be a great season of the show, filled with many large pots and exciting hands.