Season Five of High Stakes Poker To Begin Airing on March 1st, 2009
Published on January 2nd, 2009 8:06 am EST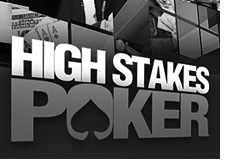 High Stakes Poker, easily the most popular and well-regarded poker show on television today, will be returning to the airwaves on Sunday, March 1st.
The fifth season of the show recently wrapped filming at the Golden Nugget in Las Vegas.
Many of the top names in the world of poker will be participating in the fifth season of the show, including Phil Ivey, Patrik Antonius, Barry Greenstein and Daniel Negreanu.
The show has been off the air for a while now. It was originally thought that GSN might be burying the show, especially after they declined their option on the seventh season of the World Poker Tour.
Some of the on-air talent that is involved with the show, including Gabe Kaplan and A.J. Benza, weren't told what the future would hold for the show. This led many people (including myself) to speculate that the future would be a grim one for "High Stakes Poker", and that we would have to make do with the four seasons of the show that have already aired.
In 2008, a break - GSN announced that they would be showing a fifth season of the show. There were many rumors as to who would be participating and what the format of the show would be, but it appears as though the show will follow the same format of the previous seasons.
The players involved in the filming of the fifth season of the show have been tight-lipped - they sign agreements before they appear on the show, promising that they won't reveal any of the details as to what took place.
This hasn't stopped some from opening their mouths a little bit - some of the participants of the fifth season have declared that there is some "amazing" action in the fifth season of the show with some "very big" hands.
Could we expect anything different from "High Stakes Poker"? The home of the incredible quads vs full house hand between Gus Hansen and Daniel Negreanu? The home of many other epic hands that involved the likes of Jamie Gold, Sam Farha, Patrik Antonius and Doyle Brunson?
There is a reason that "High Stakes Poker" is the most popular poker show on television today. The big hands, the cash game format and the banter between the players all translates well to the TV format.
Mark it down on your calendars - March 1st, 2009. The day that the best poker show on television returns to your TV sets.