Published on October 7th, 2007 12:11 am EST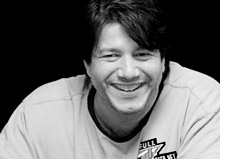 Is David Benyamine a robot?
Does he receive his food through a tube so that he doesn't have to leave his chair while playing online poker?
It sure seems like that sometimes. If you log onto Full Tilt Poker, there is a more than 50/50 chance that you will see David Benyamine playing in the noseblood PLO or H.O.R.S.E. games (and occasionally NLHE and Omaha 8/b).
David Benyamine easily puts in the most hours of any "name" pro online. The hours that he puts in is completely ridiculous. It seems like on an average day, Benyamine is playing between 12-14 hours per day, sometimes longer. He never seems to leave the table, especially when there is a good game going on. When there is a good game taking place, Benyamine can play for literally days at a time without sleep.
His stamina is most impressive. He does have a pretty impressive setup at his home, with multiple plasma screens on the wall and leather recliner seats to play in.
But I mean come on. The guy is a robot! He probably logs 90+ hours online per week! Considering that Benyamine is a Full Tilt Pro and receives 100% rakeback, you have to figure that he is making tens of thousands of dollars just in rakeback from Full Tilt per month.