Published on May 4th, 2007 9:31 pm EST
If you are looking for a great way to do permanent damage to your bankroll, then I would suggest logging onto Full Tilt Poker and playing with David Benyamind heads-up. He is a great short-handed No Limit Hold'em and PLO player, with a huge roll who is not afraid to take on any and all challengers.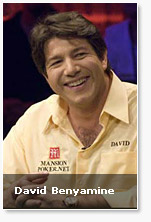 Earlier this week, Sorel "Imper1um" Mizzi decided to step up and challenge Benyamine, and ended up $220k lighter in the wallet after one session. Then just last night, Cpt Zeebo, aka "The Riparian" decided to challenge Benyamine. The Riparian bought in short twice, got busted both times, and then bought in for a full $60,000 buy-in, eventually losing that as well.
Two hands really did "The Riparian" in. First off, they got all their money in preflop with Benyamine holding pocket Jacks and "The Riparian" holding Ace Ten offsuit. The flop brought a ten but no more help, and the "Riparian" decided to buy in full.
His night came to an end when the two players got all of their money in on a flop that brought nothing but low cards. "The Riparian", feeling that his pocket nines were good, pushed all his money in. However, Benyamine had a bigger pair, holding pocket Queens, and took down the pot.
Based on Benyamine's track record, I am not sure why anyone would want to play him, especially heads-up. If you want to do some serious damage to your bankroll, look him up and sit down for a long session. I can almost guarantee your bankroll will be lighter when you are done.