Published on April 1st, 2007 10:00 pm EST
Brandi Hawbaker. Mention this name in the online poker circles and you are sure to get many different reactions. No matter what you think of her, she has made a name for herself in a short amount of time (good or bad) and whenver her name is spoken, controversy is sure to follow.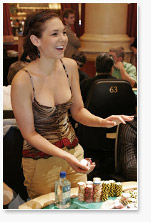 The names involved in the Brandi Hawbaker fiasco? "Captain Tom" Franklin, Marc "Newwhizzle" Newhouse, and Dustin "Neverwin" Woolf.
Brandi first burst onto the scene when she made some waves at a major live tournament a few months ago. She was actually chipleader for a while, leading many people to ask, "Who the hell is this?" Brandi was undeniably good looking.
When she busted out, a picture floated around the Internet of herself, breast exposed, holding up a Full Tilt Poker logo, covering up her nipple. Soon after, photos hit the Net seeming to show Brandi performing as a stripper.
Soon after this, controversy erupted. Brandi posted on 2+2, telling a story of "Captain Tom" Franklin holding her bankroll hostage, with Franklin (according to Brandi) seemingly want to coax sexual favors out of Hawbaker. Franklin soon after popped up on 2+2 himself, refuting the story, leaving many readers left to wonder exactly what had happened.
Then, soon after this, another story erupted, this time involving WPT winner Mark Newhouse. The story goes that Hawbaker and Mark Newhouse were someone of an "item." One night, when Newhouse was downstairs at a casino taking a major hit to his bankroll, Hawbaker was upstairs, busting Newhouse's account on Pokerstars playing NL Hold'em. According to unsubstantiated rumors, Hawbaker had a violent reaction when confronted by Newhouse, locking herself in a bathroom, cutting herself, and writing on the bathroom wall with her own blood. Is this true? Who the hell knows.
Now, it seems as though Brandi has gotten herself engaged to another poker player named Brandon. It seems as though there is some kind of a dispute with Brandon and Dustin "Neverwin" Woolf, with Neverwin claiming that Brandon owes him 20k, and Brandon claiming that Neverwin reneged on a promise to rent some of Brandon's real estate property. Of course, Brandi is right in the middle of these stories, as she is know engaged to Brandon.
Where does the truth begin and the lies end? Who knows, but regardless, there is always a story wherever Brandi goes, and one must expect that we'll hear several more juicy rumors about Hawbaker in the near future. Never a dull moment.