Arelia Margarita Taveras Sues Casinos For Ten Million Dollars
Published on March 10th, 2008 11:31 pm EST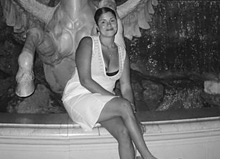 Arelia Margarita Taveras had it all. And then, she lost it all at the tables. Now, she wants her money back from the casinos that took it from her, along with an extra $19 million dollars for her troubles.
Back in 2001, Taveras had it all. She had a bustling and thriving law practice. She was making lots of money (an estimated $500k per year). She was appearing on television on an expert commentator and was also a published author. Taveras had it all.
In 2003, Taveras started visiting Atlantic City to escape the pressures of her law practice. It was here, at casinos such as the Taj Mahal and Tropicana Casino Resort, that Taveras developed his compulsive gambling habit.
According to her lawsuit, Taveras would sometimes spend days at a time at the tables, refusing to leave and surviving on Snickers and orange juice. During one gambling binge, Taveras remained at the tables for five days straight before becoming so tired that she couldn't see straight.
Taveras started dipping into her clients accounts to raise money for her gambling habits. She ended up being disbarred for this and losing her practice. She lost her apartment, her parent's home and her practice. She apparently owes the IRS almost $60,000. And now, representing herself, she is suing to get it all back.
She has filed a $20 million dollar racketeering lawsuit against six Atlantic City casinos and one Las Vegas casino, alleging that they had a duty to cut her off, and didn't do so.
The casinos, of course, deny any wrong-doing. They say that they had no way of knowing that she was a problem gambler and that the responsibility should lie at the feet of the gambler and not the casino.
This would obviously open up casinos to a huge amount of liability if this lawsuit were to be successful. I just don't see how she has a case here. There has to be some level of responsibility that people should have to shoulder - it can't ALWAYS be someone else's fault.
We will keep an eye on this case. Taveras is now living in Minnesota, working at a telephone call center. She is 37 years old.