Will Top Pros Continue To Give Away Their Secrets?
Published on February 12th, 2009 2:48 pm EST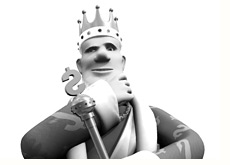 Online poker training sites, such as Cardrunners and PokerVT.com, have exploded in popularity over the past few years.
The premise of the sites is simple - successful poker players will dispense their knowledge to members, in exchange for a monthly fee.
Many of the top players in the world have aligned themselves with these sites, including Patrik Antonius, Phil Galfond and Daniel Negreanu.
Most of these players have made millions of dollars through their poker-playing abilities. They have an edge over their opponents - an edge that has made them impossibly rich at a very young age.
But what happens when you lose this edge? What happens when you give away all of the information that made you so successful in the first place?
There is no doubt that online poker training sites have been extremely effective when it comes to making players better.
The problem is that this has come at the expense of the well-known players who have been providing instruction for the sites.
Suddenly players such as Cole South, Brian Townsend and Eric Liu are not doing nearly as well as they used to. Is this because their opponents have been studying some of their training videos and learning how each of these players thinks?
Daniel Negreanu, who provides instructional content for PokerVT.com, recently stated that he believes that giving away all of his secrets on the site is a "mistake".
If Negreanu believes that this is the case, then there must be some validity to it.
I think that you will see the more successful online players shy away from getting involved in instructional sites in the future (unless they start the sites themselves or have equity in them). I mean - is it worth it?
If you were making millions of dollars per year playing online poker (or even hundreds of thousands of dollars), would you want to give away some of your best tips for a few hundred dollars? You would almost certainly lose some of your edge, which would end up costing you a great deal of money over the long-run.
I believe that two things will happen in the future:
a) top online players will refrain from filming educational content
b) the current "big" names that are equity holders in some of the larger educational sites will lose their luster, and members will begin to lose interest
Maybe these sites will end up proving me wrong - we'll see.