Amarillo Slim Beaten, Robbed of $8,000 Cash
Published on January 24th, 2009 7:15 am EST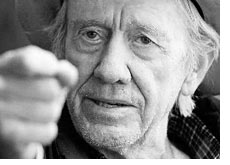 Thomas Preston, better known to poker fans as "Amarillo Slim", was recently the victim of a savage attack/robbery that forced him to check into the hospital with multiple injuries.
"Amarillo Slim" was owed $3,000 for a gambling debt, and had agreed to take a four-wheeler as collateral.
He was lured to a field, where he thought that he would be collecting his collateral.
Instead, he was beaten and robbed. During the vicious attack, "Amarillo Slim" suffered multiple injuries, including a broken hand, thumb and jaw.
He was also robbed of $8,000 in cash, as well as a diamond ring worth $85,000.
There is no word as of yet as to whether or not the culprit(s) have been apprehended.
They shouldn't be too hard to find, as "Amarillo Slim" clearly knew the identify of his attackers.
"Amarillo Slim" is a legend in the poker world - he won the 1972 World Series of Poker, and has 4 WSOP bracelets. He has approximately $630,000 in total lifetime tournament cashes. His last sizable cash came in May of 2000, when he placed second in the $2500 Pot Limit Omaha event at the World Series of Poker.
His reputation was permanently tarnished in 2005 when he was indicted on three charges of indecency with a 12-year-old child. The indictment alleged that he inappropriately touched a 12-year-old member of his family three times - he later admitted that this was true.
Was this attack an unfortunate occurrence, a disgusting act of violence against an 80 year-old man?
Or was it karma?