Sign Up Code For Party Poker
Party Poker Sign Up Code
-->
KINGBONUS
Did you know that Party Poker recently upgraded their bonus offer?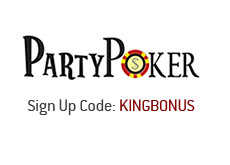 A few months ago, Party Poker introduced their brand-new "Super Sign-Up Bonus".
This new bonus gives new customers an opportunity to earn a 100% deposit bonus of up to a maximum of $500.
Prior to the "Super Sign-Up Bonus" being introduced, Party Poker offered their customers a 30% bonus of up to $150. Compared to what their competition was offering, this was a decidedly inferior bonus.
Party Poker smartened up and started offering a much-improved bonus. The bonus, in addition to other new product offerings, is being offered in an attempt to win back some of their lost market share. It seems to be working, as Party Poker has stabilized their client base and now seems to be growing again.
How does the bonus work?
When you are signing up, you will be prompted for a bonus code. Enter KINGBONUS at this time in order to qualify for your 100% sign-up bonus of up to $500.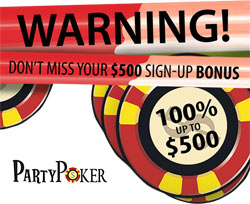 Note: There are old bonus codes floating around out there that will lock you in to the old 30% bonus. Be very careful that you don't enter one of these codes.
Next, you will need to deposit money onto the site in order to start earning your bonus. Please note: the size of your INITIAL deposit determines the size of your bonus. If you deposit $50, then you will only be eligible for a bonus of $50, regardless of how much you deposit in the future.
Bonuses are not just given to you - they are earned through play at real money cash game tables, MTTs and SNGs.
In order to fully clear your bonus, you will need to earn five times your initial deposit in PartyPoints. PartyPoints are earned in each cash game hand that you play, and each dollar in MTT or SNG fees that you pay.
Party Poker will give you a total of 90 days to fully earn your bonus. After that, any unearned bonus will be forfeited.
Bonuses are released in increments of 20%. So if you deposit $100 and are eligible for a bonus of $100, then your bonus would be released in $20 increments.
Don't forget to enter your
sign up code
of
KINGBONUS
when signing up, in order to qualify for your 100% deposit bonus!
Good luck at the tables!